Updated Archive List
I've been meaning, for quite a while now, to set up an archive of my previous posts about homeschooling.
Whoot! Theyit is!
Whoot! Theyit is!
(I feel like I just sunk a three-pointer)


If you find yourself here in search of something homeschool-ish, my past philosophy-of-education related posts and lots of pictures of our KONOS activities are now slightly organized and accessable. In the side bar to the right, you'll see the best directory a girl who doesn't speak html could come up with.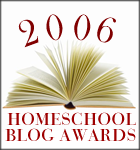 If you happen to be here for some other reason and don't care a whit about homeschooling, I'm so glad you're here, but I can't direct you to much of anything. What should we talk about?